Help Prevent Distracted Driving - School Campaign Kit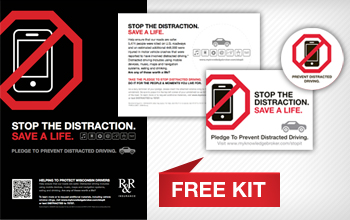 Unfortunately, many accidents occur and lives are lost due to something that can be prevented - Distracted Driving! Let's stay focused behind the wheel and focused towards a common goal to prevent distracted driving.
Request your FREE Stop The Distraction Campaign Kit today and help spread the word. We can work together to Stop The Distraction and Save A Life!
Note: Kits can only be sent within the continental US and posters can only be sent to educational institutions.
Request FREE Campaign Materials
Please fill out the form to the right to request your free kit.
KIT INCLUDES:
1 poster (2ft. x 3ft.)
2 Window Clings
(3in. circle and 4in. x 3in. rectangle)
1 Pledge Card
(5in. x 7in.)