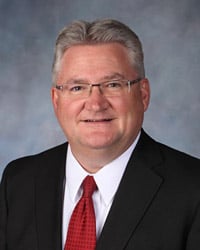 Waukesha, WI -- R&R Insurance Services, Inc. has named David Lancaster Vice President of Employee Benefits.
Lancaster has more than 25 years of insurance industry experience in managing insurance operations, agency relationships and team development. Prior to R&R, he worked for Liberty Mutual Group in numerous high-profile positions including President and CEO of Indiana Insurance. Lancaster has multiple years of experience in both P&C and employee benefits management roles.
"David brings a wealth of knowledge to our management team and is well suited to run our employee benefits operation. We are poised for significant growth in the benefits arena", states Ken Riesch, President of R&R Insurance Services. "We are counting on David to enhance our employee benefits division so we may better be able to respond to the changes the industry is presenting."
Lancaster holds a Bachelor of Business Administration in Risk Management and Insurance from the University of Wisconsin. He holds the designations of Certified Employee Benefits Specialist (CEBS) and Chartered Life Underwriter (CLU).
R&R Insurance Services, Inc. has served the insurance needs of southeastern Wisconsin since 1975. Today, R&R is Wisconsin's largest singly owned independent insurance agency offering businesses and individuals a full range of insurance products including property casualty, employee benefits, workers compensation, liability, life, dental and home/auto. R&R is also a shareholder with Assurex Global, a worldwide network of leading independent insurance agencies. For information about R&R Insurance Services, visit R&R online at www.myknowledgebroker.com.
###