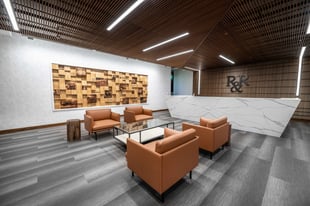 The doors are officially open at R&R Insurance Services new corporate headquarters on Stone Ridge Drive in Waukesha, Wisconsin.
After an extensive renovation, we've transformed a medical facility into 60,000 square feet of opportunity for employees, customers, business partners, and the community - further establishing our commitment to the future of R&R.
As the largest independent, family owned agency in the Midwest, R&R is proud to have stability in single ownership, dedicated in-house resources for our clients, and a strong commitment to the community. Our private ownership fosters the vision to grow and plan strategically, the agility to act quickly, and a continual investment in talent and resources.
"Our new headquarters is just one of the many ways in which we're deeply rooted in the community and built for the future. We look forward to protecting businesses and families today, tomorrow, and in the years to come." - Ken Riesch, President and Owner of R&R.
See additional images below or click here for more information on the new headquarters.