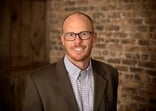 Appleton, WI – Chad Messner of R&R Insurance Services was recently named Sales Manager of R&R's Appleton office.
In his new role, Chad will lead his team in creating partnerships within businesses across the state. He will continue to help clients with his proactive risk management services while sharing his knowledge, experience and best practices with other Commercial Insurance Consultants.
A native of Elkhorn, Wisconsin, Chad received his Bachelor of Science degree in Business Administration from the University of Wisconsin Stevens Point. His career began in 2000 as a Consumer Products Specialist at Sentry Insurance. He has remained in the industry for over 20 years joining R&R Insurance in 2018 as a Commercial Insurance Consultant.
"Chad relishes serving clients," states Frank Maurer, Executive Vice President, R&R Insurance. "He is very knowledgeable on insurance policy language and understands client risk profiles and bringing risk management solutions. We look forward to watching Chad continue to challenge himself and grow as an insurance executive."