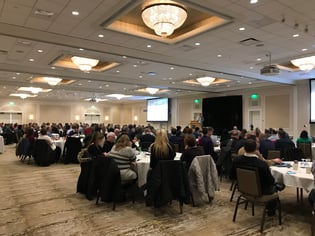 We recently held our annual All Employee Meeting, recapping 2018's accomplishments and highlighting our strategy for 2019. As we begin developing our next 5 year strategic plan, we are more optimistic than ever about the future of R&R Insurance Services. Here are a few takeaways from this year's meeting:
Extended our footprint in Fox Valley with the acquisition of Hanson Benefits, Inc.
Further expanded our service offerings to include 401(k) and financial planning through the acquisition of Jannsen Wealth Management - now R&R Wealth Management
Will continue our focus on superior customer service, efficient business operations, and strategic growth
As the largest independent, family owned agency in the Midwest, R&R is proud to have stability in single ownership, dedicated in-house resources for our clients, and a strong commitment to the community. Our private ownership fosters the vision to grow and plan strategically, the agility to act quickly, and a continual investment in talent and resources.

This summer, R&R will relocate to our new corporate headquarters. Our 60,000 square feet facility includes incredible design features and state-of-art technology, allowing R&R to continue providing superior service and assisting in the recruitment of top talent in the industry.

"R&R has always been, and will continue to be, committed to growth, service, and supporting the communities in which we serve. We look forward to protecting businesses and families - today, tomorrow, and in the years to come." - Ken Riesch, President and Owner of R&R.

To view the renovation progress of our new corporate headquarters, click on the video below!