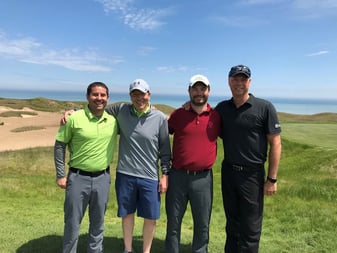 R&R's foursome (Tom McInerny, Mike Payne, Dan Maurer and Mike Harrison) won the Chubb Charity Challenge Golf Outing and will advance to the finals in support of the Bryon Riesch Paralysis Foundation. The foursome competed against teams from across the area as part of the 20th annual charity golf tournament.
Launched in 1996, the Chubb Charity Challenge invites agents, brokers and clients to golf in regional tournaments hosted by local Chubb branches. Competing on behalf of their selected charities, the winning foursome from each regional tournament advances to the finals tournament which will be held this September 22-25 at The American Club in Kohler, Wisconsin, where dozens of teams from across North America will compete for their portion of a nearly $1 million purse for their charity of choice.
Between 2000 and 2018, more than 5,200 teams have participated in the Chubb Charity Challenge, raising nearly $16 million for charity collectively, including more than $900,000 in 2018.
"Celebrating our 20th year, the Chubb Charity Challenge remains committed to playing golf with a purpose. Participants play for causes dear to our hearts within the communities where we work and serve," said Chris Maleno, Division President, Chubb North America Field Operations. "Together with our network of brokers and agents throughout North America, we continue to build stronger connections within our communities, and becoming better neighbors."
Visit https://www.chubb.com/CharityChallenge for more information about this year's tournament, including regional winners and the charities that have benefitted from this initiative.