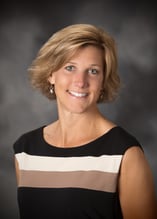 Waukesha, WI - R&R Insurance Services welcomes Michelle Froehlke as a Benefits Consultant.
With an extensive background in education and five years of experience in the insurance industry, Michelle has a passion for educating employers on the changing landscape surrounding healthcare. In addition, she enjoys finding solutions to fit the visions, goals, and budgets of customers.
"We are thrilled to have Michelle join our Employee Benefit Practice," states David Lancaster, Executive Vice President of Employee Benefits. "Her knowledge of the industry and her passion for education are an incredible asset to our growing team."
R&R Insurance Services, Inc. has served the insurance needs of the Midwest since 1975. Today, R&R is Wisconsin's largest singly owned independent insurance agency offering businesses and individuals a full range of insurance products including property casualty, employee benefits, workers compensation, liability, life, dental and home/auto. R&R is also a shareholder with Assurex Global, a worldwide network of leading independent insurance agencies. For information about R&R Insurance Services, visit R&R online at www.myknowledgebroker.com.