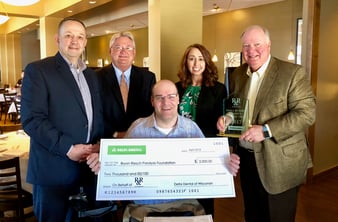 Waukesha, WI – For the 2nd consecutive year, Delta Dental announced R&R Insurance Services as 'Small Business Agency of the Year.' The award is presented annually to the agency partner that places the most new group dental plans, with less than 50 enrolled employees, in a given year.
Both R&R and Delta Dental are mission driven organizations with a passion for building long-term relationships, giving back to those in need, and making a positive impact in the community.
In conjunction with the award, Delta Dental provided a $2,000 donation to the Bryon Riesch Paralysis Foundation. As a Foundation held close to the hearts of those at R&R, the gift further instills the value of both companies to make a difference in the lives of others.
R&R Insurance Services, Inc. has served the insurance needs of southeastern Wisconsin since 1975. Today, R&R is Wisconsin's largest singly owned independent insurance agency offering businesses and individuals a full range of insurance products including property casualty, bonding, employee benefits, workers compensation, liability, life & health, Medicare, home & auto. R&R is also a shareholder with Assurex Global, a worldwide network of leading independent insurance agencies. For information about R&R Insurance Services, visit R&R online at www.myknowledgebroker.com.