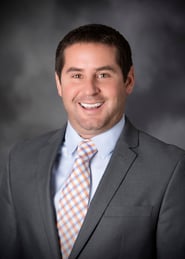 Waukesha, WI - R&R Insurance Services welcomes Tom McInerny as Sales Executive.
Tom comes to R&R with extensive experience in the construction and municipality industries. In particular, Tom has specialized experience in sewer and water. Tom spent the last 10 years working for a top-rated wholesale supplier of commercial and residential plumbing supplies.
"We are very pleased to have Tom join our growing Commercial practice here at R&R Insurance," states Jack Riesch, Owner and Executive Vice President. "The experience Tom has within particular segments of the construction industry make him a unique asset to our Construction & Bonding Division."
R&R Insurance Services, Inc. has served the insurance needs of southeastern Wisconsin since 1975. Today, R&R is Wisconsin's largest singly owned independent insurance agency offering businesses and individuals a full range of insurance products including property casualty, employee benefits, workers compensation, liability, life, dental and home/auto. R&R is also a shareholder with Assurex Global, a worldwide network of leading independent insurance agencies. For information about R&R Insurance Services, visit R&R online at www.myknowledgebroker.com.