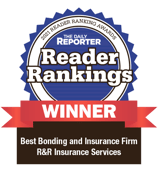 R&R Insurance has once again been ranked the "Top Bonding and Insurance Firm" by The Daily Reporter readers!
For the fourth year, The Daily Reporter has surveyed it's readers on number of questions related to Commercial construction categories (best abatement, best material supplier, best scaffolding company, etc.) as well as general business questions. Participants wrote in company names for their top votes. With over 25% of the votes, R&R Insurance ranked #1 Bonding & Insurance Firm.
We are proud for acknowledgement in additional areas for 2021:
Best Bonding and Insurance Firm - Winner [4th year in a row]
Best Benefits Program - Winner
Best Safety Management Company - Winner
Best Wealth Management Provider - Winner [Top 3 in 2020]
Thank you to everyone who took the time to vote! It truly takes a team to continue providing outstanding service to our customers, so they can focus on growing their business.