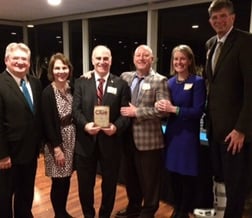 Pewaukee, WI – On behalf of R&R Insurance Services, Terry Frett was a proud recipient of the Pewaukee Chamber of Commerce 'Insight Business of the Year Award.'

Insight is an innovative education capstone, designed by Pewaukee High School to give students hands-on, real-world experience in a professional setting. As an active volunteer of the program since it began in 2015, Terry has had the opportunity to engage as a professional mentor and support the program's mission to provide real world business experiences to many of the students.

Industry partners, such as R&R, provide real project work to enhance the students' knowledge and experience in a career of their interest. Students are mentored by business professionals and complete the program better prepared to be the next generation of workforce.

"Being involved in the Insight program has been a two-way street for me," states Terry Frett, Sr. Employee Benefits Consultant of R&R. "Not only have I been able to share my experience with the students I have had the privilege to work with but I have also learned from them regarding the future insurance consumer."