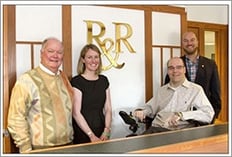 Waukesha Company Has Grown Organically
WAUKESHA - In its 40 years, R&R Insurance has been able to grow organically, thanks to an investment in the company's employees and by offering specialized services, said President Ken Riesch.
Riesch and his father, Otis, started the business in 1975 with $6,800 in commission income. Later Dexter Riesch joined the business. By 1990 Ken Riesch became the sole owner of the company and five years later had approximately $4.5 million in commission.
Read full article by the Waukesha Freeman here.