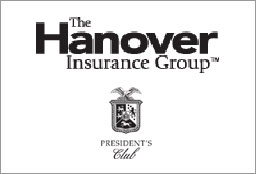 The Hanover Insurance Group, a leading provider of property and casualty insurance products and services nationwide, recently honored R&R Insurance Services with an appointment to its President's Club, an elite group of independent insurance agencies from across the country.
President's Club agencies meet the highest level of standards with regard to the agency's ability to deliver value to customers through strong insurance expertise and responsive service.
The Hanover partners with only 2,200 out of a total of 35,000 total independent agents in the country. Across The Hanover's agents, an elite group of only 125 are honored in its President's Club each year as the company's top performers.
"The Hanover has always partnered with the best independent agents in the country who provide real value and outstanding service for their customers," said Frederick H. Eppinger, president and chief executive officer of The Hanover. "R&R Insurance Services exemplifies what it means to be a truly professional independent agent, providing expert insurance advice, dedicated service and a broad range of products to meet the needs of its customers."
The agency will be formally recognized for its President's Club achievement at a national business conference sponsored by The Hanover.
About R&R Insurance:
R&R Insurance Services, Inc. has served the insurance needs of southeastern Wisconsin since 1975. Today, R&R is Wisconsin's largest singly owned independent insurance agency offering businesses and individuals a full range of insurance products including property, casualty, employee benefits, workers compensation, liability, life, dental and home/auto. R&R is also a shareholder with Assurex Global, a worldwide network of leading independent insurance agencies. For information about R&R Insurance Services, visit R&R online at www.myknowledgebroker.com.
The Hanover – At a Glance:
One of the largest and fastest growing property and casualty insurers in the U.S.
Specialized products that meet the needs of families, individuals and businesses
Since 1852, distributing products through the best independent agents in the U.S.