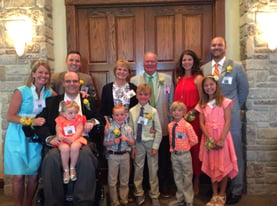 The Riesch family was recently named 'Family of the Year' by Family Service of Waukesha, and honored at an elegant dinner at the Legend of Brandybrook. With the theme of "Building a Family & Leaving a Legacy," the whole family was in attendance to receive this special recognition.
The event included a "Raise the Hands Fundraiser," which raised close to $40,000. All donations will go towards supporting The Big Yellow House, and provide psychotherapy, education, and advocacy services in Waukesha County.
We are incredibly proud of the Riesch family's dedication, philanthropy, and the lasting legacy they are leaving throughout Waukesha County.