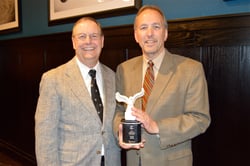 Jeff Thiel, Commercial Account Executive at R&R Insurance Services, was named the Committee Chairman of the Year at the Independent Insurance Agents of Wisconsin (IIAW) state convention in Wisconsin Dells. Jeff chairs the IIAW's Marketing & Membership Development Committee.
"Jeff consistently demonstrates an exemplary commitment to our Association, his business, and most importantly, his community," said Matt Banaszynski, IIAW Executive Vice President. "This award recognizes his work to serve in the public's best interest by holding himself to the highest ethical standards while working to insure the American Dream."
The IIAW is one of the largest trade association's in the state with over 5,000 independent insurance agents selling property, casualty, life and health insurance.
Click here to learn more about Jeff.