Every 40 seconds someone succumbs to heart disease and stroke.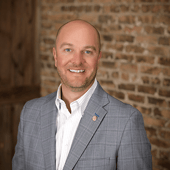 While we've witnessed major medical and scientific advances, we cannot continue to allow this to be a trend. Not for ourselves. Not for our children.

R&R Insurance Owner, Jack Riesch, literally takes this to heart with a grandfather who passed away from a heart attack. For him, the risk is real. An accident left a younger brother a quadriplegic; his youngest brother passed away at 29 from esophageal cancer, and his brother-in-law who didn't make it home from Afghanistan. Jack knows all too well that life can change in an instant. He is now passionate about providing resources for everyone to make improvements today for better tomorrows.
Why the American Heart Association? "Walking my daughter down the aisle is WHY. Seeing my son get his diploma is WHY. Celebrating my next wedding anniversary is WHY.", reflects Riesch.
Paying closer attention to his own health in recent years with a regular exercise routine and eating a healthy diet, Jack is walking-the-walk already. And now it's time to pay it forward by advocating for others to change their health outcomes. Not only helping others to add more years to their life, but more life in their years.
By partnering with the American Heart Association, together we are able to support a culture of health:
Improving quality of life

Ensuring health environments

Strengthening the economy

Elevating care

Changing policy
What is your WHY? Join Jack in supporting the cause: click for more information.

February 15, 2020