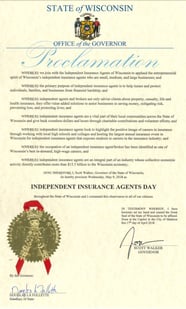 Governor Scott Walker has declared May 9, 2018 as Independent Insurance Agents Day in Wisconsin in recognition of the vital role independent agents play in the community and the strategic importance to the Wisconsin economy.
The Governor's proclamation joins with the Independent Insurance Agents of Wisconsin (IIAW) to applaud the entrepreneurial spirit of Wisconsin's independent insurance agents who are small, medium and large businesses working to make a difference in every community throughout the state.
R&R Insurance Services is proud to be an integral part of an industry whose collective economic activity directly contributes more than $15.5 billion to the Wisconsin economy. The occupation of an independent insurance agent/broker has been identified as one of Wisconsin's best in-demand, high-wage careers.
An an independent agent, R&R provides insurance from multiple carriers and offers a wide range of insurance solutions to help protect individuals, families and businesses. As a top performer, R&R is granted elite access to markets, products and programs giving us the flexibility to match each client with the best carrier. In addition, R&R also assists businesses in saving money, mitigating risk, preventing loss and protecting the lives of our community.