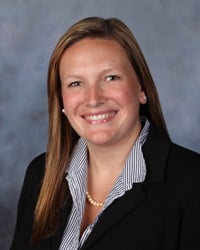 Waukesha, WI -- R&R Insurance Services, Inc., headquartered in Waukesha, has named Stephanie Katzfey as Creative Marketing Specialist.
Katzfey has more than seven years of marketing experience ranging from experiential to online. Prior to R&R, she worked for GMR Marketing LLC and Pinstripe, Inc. in a variety of client services roles. As a Regional Manager at GMR Marketing, Katzfey managed strategic programs with account teams and assisted in executing events for national clients.
Katzfey will be responsible for the creation and execution of both traditional and digital marketing functions in support of the business growth objectives and brand management for the entire agency. R&R is continuing to invest in the knowledgebroker™ brand through use of Facebook and the knowledgecenter blog.
Katzfey holds a Bachelor of Business Administration in International Business and Language Studies from Saint Norbert College.
R&R Insurance Services, Inc. has served the insurance needs of southeastern Wisconsin since 1975. Today, R&R is Wisconsin's largest singly owned independent insurance agency offering businesses and individuals a full range of insurance products including property casualty, employee benefits, workers compensation, liability, life, dental and home/auto. R&R is also a shareholder with Assurex Global, a worldwide network of leading independent insurance agencies. For information about R&R Insurance Services, visit R&R online at www.myknowledgebroker.com.
###