Terry Talks Business Solutions
R&R's Terry Frett is a guest host four times a year on 1130 WISN "Business Solutions with Diane Chamness". Topics cover the latest trends in employee benefits, Medicare, and individual insurance.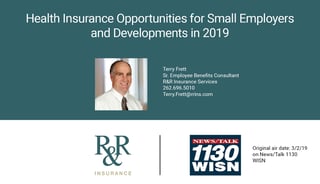 Health Insurance Opportunities for Small Employers and Developments in 2019

Original Air date: March 2, 2019 (3-4 PM)

Show topics:
Trending developments unfolding in 2019, including mergers and acquisitions
Pharmaceutical Research and Manufacturers of America's new platform for disclosing the retail cost of medication advertised
Affordable health coverage including level funding and Association Health Plans
---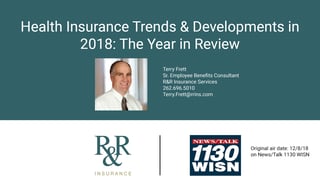 Health Insurance Trends & Developments in 2018: The Year in Review

Original air date: December 8, 2018
Show topics:
Major Health Insurance Mergers and Health Care System Mergers Completed in 2018
Prescription Therapies Exceeding 20% of Total Health Care Spend
New Small Employer Health Insurance Opportunities

Level Funded
Association Health Plans

2019 Obamacare Open Enrollment
Look Back at Terry's Predictions for 2018 made in December of 2017
New Predictions for 2019
---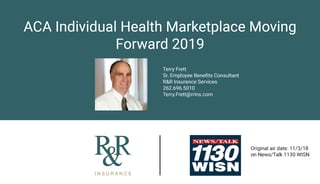 ACA Individual Health Marketplace Moving Forward in 2019

Original air date: November 3, 2018
Show topics:
Review of 2018 - Henry J. Kaiser Family Foundation Data
Challenge: Early Retirees Who Do Not Qualify for Premium Tax Credits Due to Income
2019 Open Enrollment
Tips for Consumers
---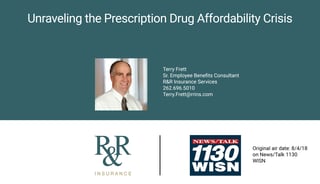 Unraveling the Prescription Drug Affordability Crisis

Original air date: August 4, 2018
Show topics:
The Problem / Key Stakeholders in the Prescription Drug Distribution Chain
What is a PBM? Where did the business model of a PBM come from? How do PBMs make money?
What is Spread?
What are manufacturer Rebates?
How do pharmaceutical companies drive demand for their drug?
Trump Administration released in May of 2018
The transformation of medications from pills and capsules to genetic engineering and cures
The opportunities and challenges
Car T Cell Therapy: New Gene Therapy Break Through used for blood cancer
Tips for consumers and basic medications
Consumer direct pharmacy savings programs
---
Health Insurance Trends & Developments in 2017
Original air date: December 9, 2017
Addressing the current trends and developments in Health Insurance and a year in review of 2107.

Show topics:
Federal Government & The Affordable Care Act
Individual Health Insurance Marketplace
Small Employer Marketplace
Health Insurance Developments
Provider Systems Developments
Continued Trend of Provider Owned Insurance Plans
Provider & Insurance Carrier Partnerships
Prescription Drug Expenditure Continues to Grow
Predictions for 2018
---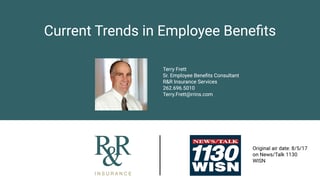 ObamaCare Redefined | Current Trends in Employee Benefits
Original air date: August 5, 2017
Addressing the current trends in Employee Benefits and how they are affecting Milwaukee area employers.

Show topics:
Trump administration redefining the Affordable Care Act
Insurance carrier trends
Medicare missed opportunities
What will 2018 look like for health insurance?
---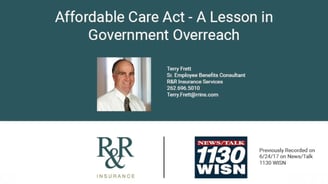 Affordable Care Act - A Lesson in Government Overreach
Original air date: June 24, 2017
Addressing the current trends in Employee Benefits and how they are affecting Milwaukee area employers.

Show topics:
Wisconsin's individual health insurance market before The Affordable Care Act
Wisconsin's individual health insurance market after The Affordable Care Act
Health and Human Services Individual Market Premium Changes 2013 – 2017
Individual Health Insurance Market 2018 in Wisconsin
Repeal and Replace Legislative Efforts – School House Rock – I am a bill 1975