Webinar: Return-to-Work Programs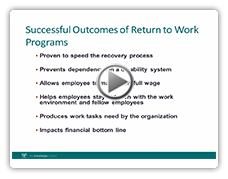 Find out what injured employees staying home costs not only your company, but the injured employee as well. We'll also discuss what different tasks you can have the injured employee do, and yes, there may be more things than you think! Returning to work should be a 'Win-Win'.
Please fill out the form to the right to view the recording of 'Return-to-Work Programs'.