Benefits of a 24/7 Nurse Care Hotline from The Alaris Group Inc®
Alaris offers a 24/7 nurse care hotline for employees to call right after an accident and those injuries are then triaged accordingly. Studies have shown that this process has reduced OSHA recordables up to 40%.
Some of the benefits include:
Their clients have reduced their OSHA recordables by 40%
Early nurse intervention reduces lost time claims and therefore employer experience mods/premium
It reduces the amount of Md visits and ER visits - For example, soft tissue strains can be treated with rest and ice and provider visits aren't necessary.
The service is Bi-Lingual and there is Nationwide coverage
Learn more about alternative options for return to work programs by downloading the informational document.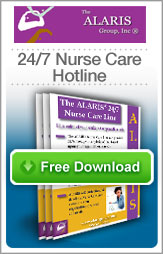 Download the 24/7 Nurse Care Hotline information by filling out the form to the right.