Liability Waivers and the Open Gym Act Webinar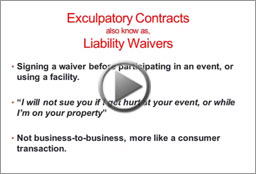 Designed specifically for School Districts:
This webinar reviews Wisconsin law concerning the enforceability and requirements of Liability Waivers. In addition, Wisconsin's Open Gym Act is discussed for its applicability, limitations, and granting of immunity. In addition recieve suggestions and best practices for risk control.

Please fill out the form to the right to download a recording of 'Liability Waivers and the Open Gym Act.'