Fleet Safety (Non DOT) Webinar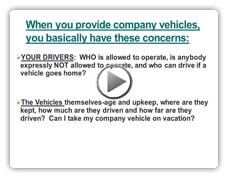 Do you provide company vehicles to some of your employees? Do you have employees who drive their own vehicles on company business? If the answer is "yes" to either one of these questions, you should download our on-demand webinar.
Insurance professionals often say that the Fleet exposure is the largest potential claim exposure most companies have. This webinar focuses on the things that you can do to screen, monitor, and train your drivers. The result is safer drivers, fewer "at-fault" vehicle crashes and lower insurance premiums". We also discuss our nations' number one driving issue right now: Distracted Driving.

Please fill out the form to the right to download a recording of 'Fleet Safety (Non DOT).'