Webinar: Evaluating Your Emergency Action Plan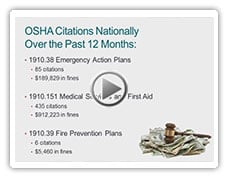 How would your employees react in the event of a fire, personal injury or chemical exposure? Help learn the tools to put in place so that your organization is ready for any potential emergency.
R&R Insurance will help you understand how to evaluate your organization and best prepare your employees for any situation. Utilizing our Risk Management Center, we'll show you the tools necessary to be ready for anything.
Please fill out the form to the right to download a recording of 'Evaluating Your Emergency Action Plan.'