Download Our Free Emergency Preparedness For Business Kit
If your facility goes up in flames tomorrow how quickly will your organization respond? How quickly will regular business resume? This Emergency Preparedness For Business guide will help you:
Formulate a team in charge of developing the Emergency Preparedness plan.
Analyze all potential hazards and probability of the hazard occurring
Outline response procedures for all potential emergencies
Conduct training/drills to assure all personnel are aware of their role during each emergency
Assess and amend the plan as necessary. Audits completed on an annual basis.
Fire Preparedness For Business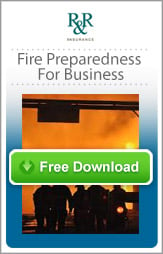 Download your FREE Emergency Preparedness For Business Kit by filling out the form to the right.