Daily Destruction Policy
Keep your data safe and secure by following a daily destruction policy in your organization.
All office documents and paper, and other sensitive media with customer information must be secured and shredded according to Company policy. This includes social security numbers, transaction numbers, account information, customer contact information, printed emails, and more.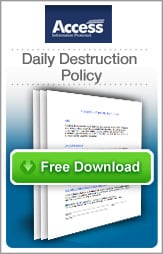 Download the Daily Destruction Policy by filling out the form to the right.