Current Trends in Employee Benefits
R&R Insurance's Terry Frett will address the current trends in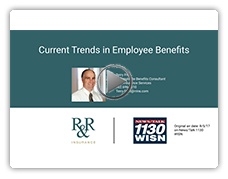 Employee Benefits and how they are affecting local employers.

Show topics:
Important recap of last show (June 24, 2017)
Washington D.C.
Employer sponsored health plan trends
Small employer market challenge (2-50 employees)
Aging workforce and missed Medicare opportunities
Focused network opportunities
Focused pharmacy opportunities
Open enrollment season and important employer compliance requirements
Employee tips for open enrollment
Original air date: 8/5/17

Please fill out the form to the right to view your recording of 'Current Trends in Employee Benefits'.