Conducting an Effective Investigation
The goal of an accurate and thorough incident investigation is not to place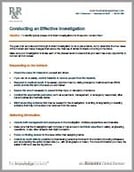 blame, but to determine the true cause of the incident and make changes that reduce the chances of similar incidents occurring in the future.
Make sure your investigation includes each of the phases explained in this article to assure that your team has every opportunity to uncover all root causes.
Please fill out the form to the right to download your copy of 'Conducting an Effective Investigation'.