Webinar: Machine Guarding


Machine guarding is consistently within the top 10 of OSHA's most cited hazards each year. This informative webinar will further educate you on the following topics: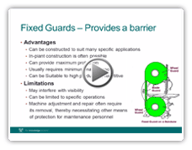 OSHA's requirements for machine guarding
Why and how the current standards came to be
Machine guarding inspections
Identifying and prioritizing guarding problems
Don't miss opportunities to learn how to assess and reduce the hazards at your facility.

Please fill out the form to the right to download a recording of 'Machine Guarding'.